Happy New Year! Welcome to...
We hope you had a wonderful holiday season and that 2010 will be a truly blessed year for you and yours! 2009 marked the start of the
JAGged
Edge Boutique. It was a dream we cultivated through emails and long nights of brainstorming and it inspires our passion for all things crafty! Want to learn more about the JAG girls? Check out the Meet the Girls link in the side bar or just click
HERE
!
Thank you
for being here with us and making our journey so much fun, we couldn't do it without you!!
Considering it is the 1st Wednesday of 2010 I am sure you are expecting a new...

But to kick the year off we are going to take a look back and review all the project goodies we brought you in 2009 before we give you even better goodies in 2010! All the projects shown in this post are still
available
...so if you see something you can't live without just click the item name or the picture shown below to go to the original post. From there you can click the Buy It Now option on the posting or use the Email the Girls link on the side bar to contact us!
Personalized Baby Blanket
Snuggly Bunny & Blanket
Girls Crayon Apron
Personalized Photo Mats

Custom Handbag

Handcrafted Dolls
Personalized Purse
Polymer Clay Jewelry
Aprons
Quilted Snuggle Blanket
So there ya have it...a look back on all our 2009 projects that are still
available
to you! Also, don't forget to check out our
DIY
&
Decorating
Ideas too! Crafting inspires our daily lives, that's why we are here...and hopefully in the process of sharing our ideas we will inspire you too!!
Oh...and
DON'T FORGET
...
You can follow us on Twitter...
www.twitter.com/JAGBoutique

You can sign up for an email subscription so you never miss a new JAG post...


And you can button your blog or webpage to help spread the word about The JAGged Edge Boutique!




But most of all...
Thank you to those of you who have been here since we launched in August '09, to those that joined us along the way, and to those who are visiting for the first time today...Thank YOU for sharing this journey with us and be sure to stay tuned for new crafty goodness coming your way in 2010! With Love,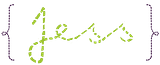 ,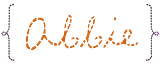 &